Water Slides For Rent Mobile AL

Our amazing water slides are a great way to get cooled off on a wild ride. Each is a thrilling adventure to fun as you soar your way down the slope to a big win. Challenge your guests to the best time at your party or event and keep the excitement pumped up to 11.

All of our rentals are professionally serviced, cleaned and maintained for your safety and fun!

Rent these units for the whole weekend at the same price as a day just select Friday through Sunday on the calendar when you select your dates!
30ft Lava Falls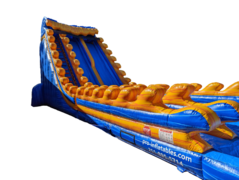 24ft Volcano Bay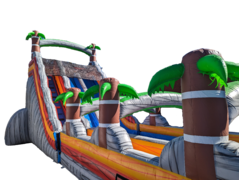 20ft Blazing Curve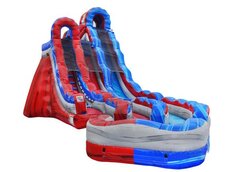 20ft Tropical Curve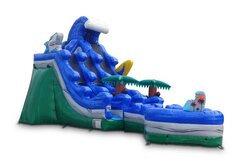 18ft Goombay Splash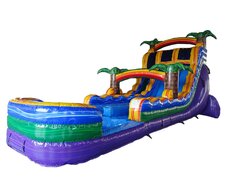 18ft Reggae Rush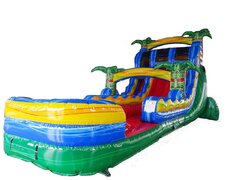 19ft Big Surf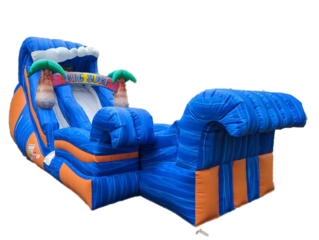 18ft Pirate Cove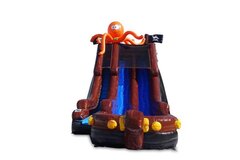 18ft Ocean Wave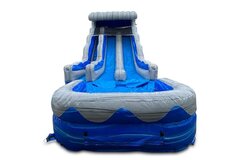 15ft Dino Dive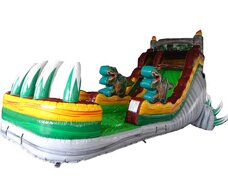 15ft Baja Splash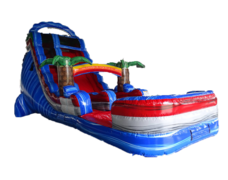 Pirate Combo Wet/Dry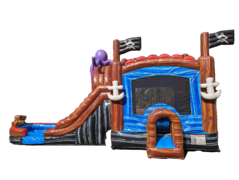 Princess Castle Combo Wet/Dry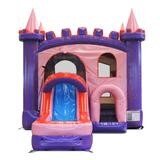 Shark Combo Wet/Dry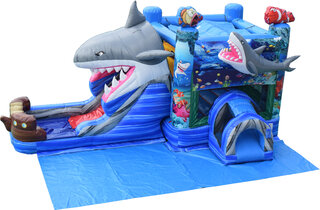 Mermaid Combo Wet/Dry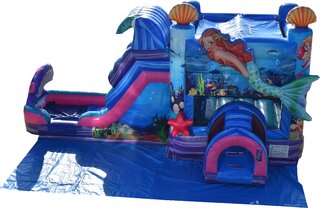 Unicorn Combo Wet/Dry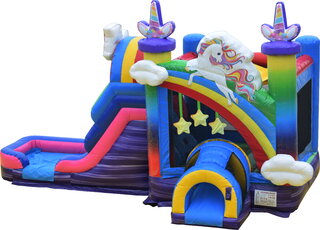 46 ft Mardi Gras Rock Climb Slide Wet/Dry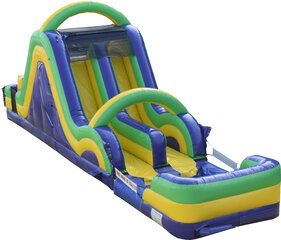 48 ft Purple Marble Obstacle Course Wet/Dry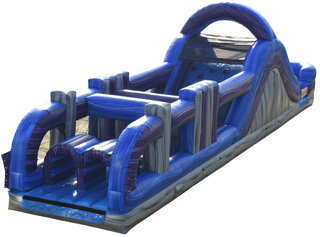 Spider-Man Combo Wet/Dry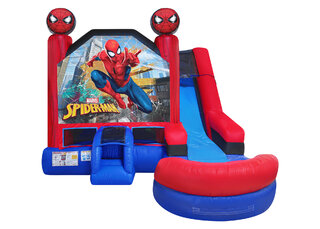 I Xtreme Obstacle Course Wet/Dry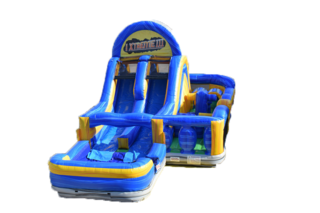 Water Slides For Rent Mobile AL
Ride the wave of joy with Pro Inflatables, your ultimate destination for water slides for rent Mobile AL kids and adults love! Offering a splash of excitement and a dash of thrill, we're here to add the 'wow' factor to your next event. We're the masters of fun, and we've got the credentials to prove it. As a trusted name in the party rental industry, we transform ordinary occasions into extraordinary celebrations, one inflatable water slide at a time.
Our inflatable water slides aren't just rentals - they're your ticket to a world of joy, laughter, and unforgettable memories. Every slide has been thoughtfully designed to provide maximum fun and safety, giving your party the perfect mix of excitement and peace of mind. We believe in serving our customers in Mobile, Alabama, with top-quality and affordable inflatables. Our inflatable water slides are not only fun but also exceptionally well-maintained and clean. With each rental, you can expect top-notch quality that matches the splendor of your special event, making us the water slides for rent Mobile AL can trust.
But our awesomeness doesn't end there. At Pro Inflatables, we pride ourselves on providing exceptional customer service with our water slide rentals in Mobile Alabama. Our team of party heroes is on standby, ready to assist you at every stage of your rental experience. From choosing the perfect slide to ensuring smooth delivery and setup, we're with you every step of the way.
It's time to embrace the fun! Say goodbye to dull parties and hello to a world of thrills and excitement with inflatable water slides for rent in Mobile AL. Choose Pro Inflatables for exciting event entertainment, and let's make your next event a splashing success! Join the Pro Inflatables family today and discover the water slides for rent Mobile AL uses to truly make a splash. Buckle up for the ride of your life and surf to your unforgettable party experience!
The Water Slides Mobile AL Uses to Add Fun to All Events
Delight in the water slides Mobile AL rents from Pro Inflatables! Our water slide rentals bring joy to a wide array of events. Whether it's a child's birthday bash or a grown-up's nostalgia-filled get-together, our inflatable water slides are sure to be the center of attention and the source of many smiles. We have years of experience delivering our refreshing and enticing slides to various celebrations, including festivals, carnivals, school field days, grand openings, birthdays, graduation celebrations, and other memorable events.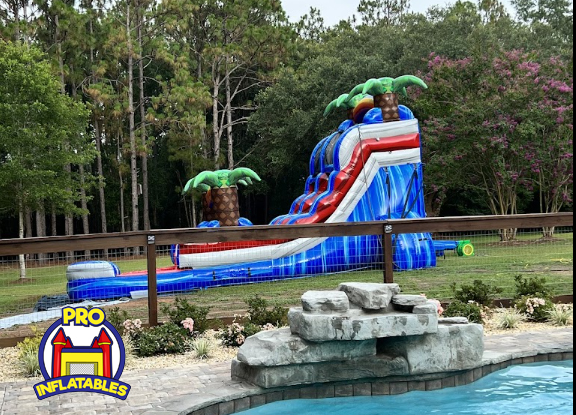 Ahoy, corporate event planners! No need to rely on stuffy icebreakers when our water slides can do the trick. Add a refreshing twist to your team-building activities and watch as camaraderie grows amidst laughter and shared excitement. The water slides Mobile AL customers love also find their place under the Alabama sun at community festivals and fairs, creating a jubilant splash zone that draws in the crowds and keeps the merriment alive.
And let's not forget about family reunions! What better way to cool down, catch up, and create unforgettable memories than racing down one of our Mobile AL water slide rentals? From school events to charity fundraisers, Pro Inflatables' water slide rentals can transform any occasion into a joy-filled celebration. Here's to events that are not just remembered but cherished for years to come, thanks to the best place to rent water slides in Mobile AL!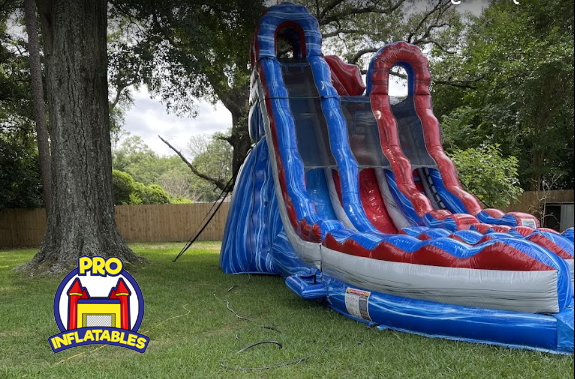 Browse Our Selection Of Water Slide Rentals Mobile Alabama Loves
Plunge into the fun with Pro Inflatables' and browse our expansive selection of water slide rentals Mobile Alabama loves! From towering giants to simple pleasures, our water slides cater to adrenaline junkies and fun lovers of all ages.
Got little ones at your party? Our kid-friendly Mobile AL water slides are perfect for every occasion. They offer a safe, exciting experience that will have them laughing and splashing all day long. For thrill-seekers, we've got taller, steeper blow up water slide rentals Mobile AL uses to make hearts race and spirits soar. It's not just a slide; it's a ride you won't forget!
We also offer a delightful range of themed slides, perfect for events with a specific motif. Be it a tropical luau or a pirate adventure, we've got the perfect slide to complement your theme. At Pro Inflatables, variety is the spice of life. So why not add some spice to your next event with one of our inflatable water slides? Dive into the fun with our selections!
Any customers looking for the biggest and best adult water slide rentals Mobile AL has to offer will love our 30 ft Lava Falls Water Slide! When it comes to water slides, this one is the cream of the crop. The sheer size of it is impressive, at 70 feet in length and 30 feet in height. Get up high and slide all the way down to the huge pool below, and you won't be disappointed! Available to rent beginning at just $600, this impressive water slide is big in size but not on price.
Customers looking for a more relaxing experience will love our Dolphin Dive water slide. At 24 feet, this beautiful slide comes adorned with palm trees, a beautiful blue hue, and a magnificent dolphin waiting at the pool at the end of the slide. With two lanes, a huge pool, and a starting price of just $500.00, the fun never stops! Be sure to look through our other inflatable options, including the best obstacle course rental Mobile AL has to offer, to add never-ending fun to your upcoming event.
How To Book The Best Water Slide Rentals in Mobile AL
Booking our water slide rentals in Mobile AL online is easy and stress-free with our convenient and automated booking platform. Our process is simple, straightforward, and designed to get your party sliding into fun in no time. Start by exploring our inventory and finding the best water slide for your specific event. Each product listing comes with a detailed description and high-quality images, helping you choose the perfect fit for your event.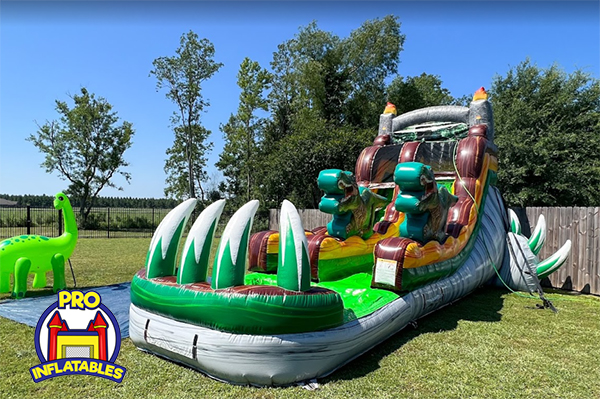 Once you've selected your preferred water slide, it's time to check its availability for your event date. Our online reservation system allows you to view the real-time availability of our water slides, eliminating any guesswork. Now, all you need to do is add your chosen water slide to your cart and proceed to checkout. Here, you'll fill in details about your event, including location, timing, and any special instructions. Finally, secure your booking with an online payment. Our secure system ensures that your transaction is safe and reliable. Our entire system allows us to be the inflatable water slides mobile AL can trust.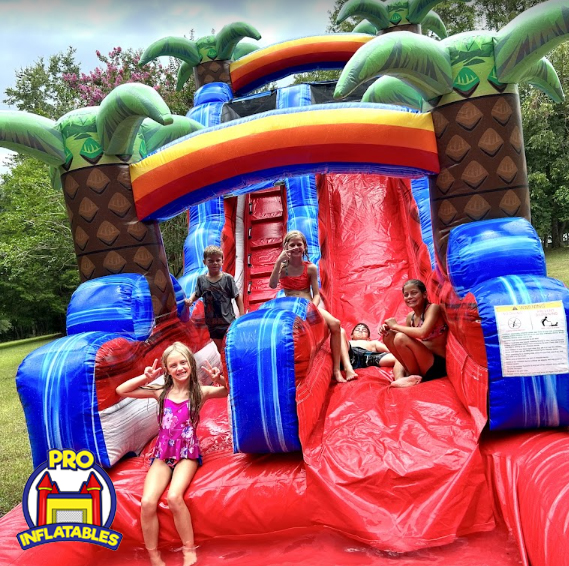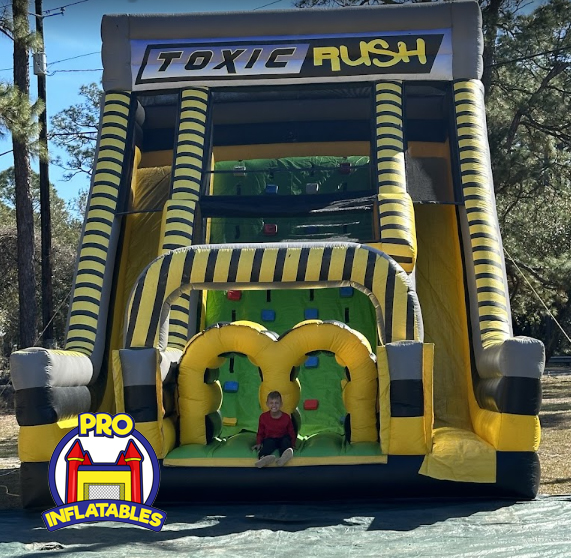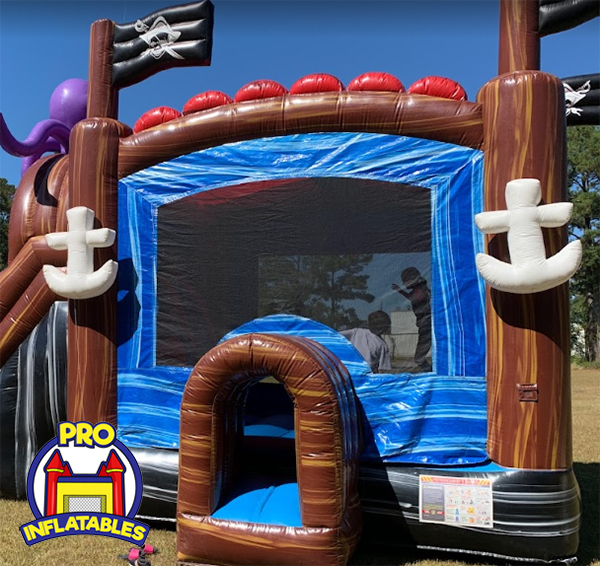 Congratulations! Your water slide rental is now booked. Our team will then reach out to confirm the details and arrange for delivery. So sit back, relax, and prepare for an unforgettable event with your water slide rentals in Mobile AL, from Pro Inflatables!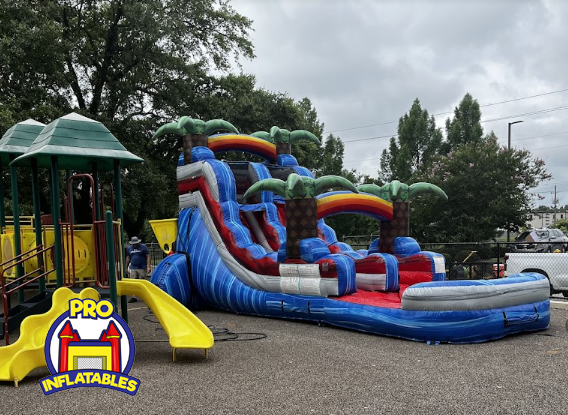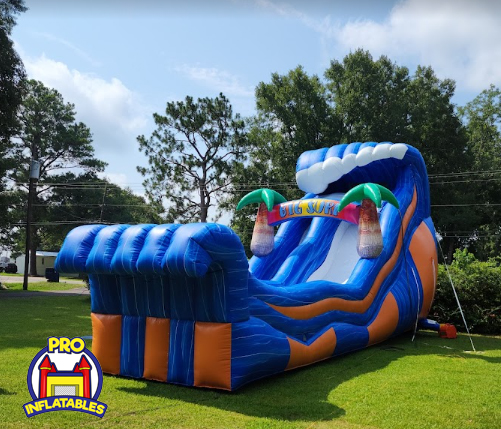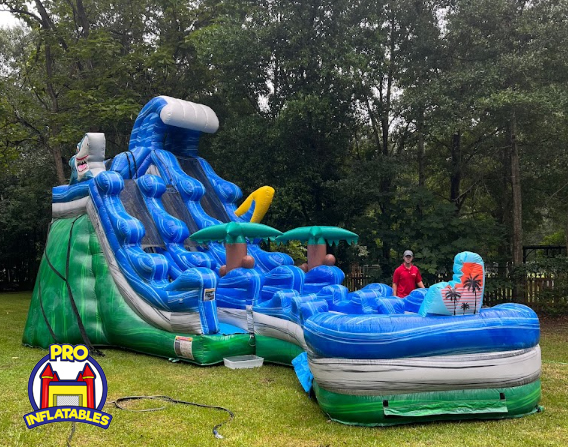 We Deliver The Water Slide Rentals Mobile AL Can Trust to Mobile County
Pro Inflatables is proud to deliver the
water slide rentals Mobile AL
can trust by bringing joy and splashes to a range of zip codes, including 36688, 36693, 36695, 36615, 36616, 36617, 36618, 36602, 36603, 36604, 36605, 36606, 36607, 36608, and 36609. We aim to make every event a delightful one with our inflatable water slides, whether in the heart of Mobile or its vibrant suburbs, including Grand Bay, Irvington, Theodore, Semmes, and Saraland.
Our water slide rentals are popular across local schools within the Mobile County Public School District. They've transformed countless school events into fun-filled, memorable experiences. They're just as much a hit at local parks such as Medal of Honor Park, Municipal Langan Park, and Mardi Gras Park, offering a cool reprieve and an exciting activity for community gatherings and festivals.

There's no need to spend hours searching for "water slide rentals near Mobile AL," with our top-quality selections and wide delivery region. So whether you're in downtown Mobile or its surrounding areas, Pro Inflatables is ready and excited to bring the best water slide rentals Mobile AL has seen right to your doorstep!

NOTE: Extra fees may vary depending on how far you are outside our service area.
FAQs About Our Water Slides For Rent In Mobile AL
If you have questions about water slides for rent in Mobile AL, we have answers! Take a look at our frequently asked questions below and get in touch with our team if you have any additional questions by giving us a call at (251) 895-5714.
Q.
How much does it cost to book water slides for rent in Mobile AL?
A.
Our prices range depending on the size and style of the slide, the rental timeframe, and the delivery area. Our slides begin at $250 for eight hours of rental time and go up from there. If you're searching for the most cost-effective big water slide rentals Mobile AL has to offer, you're in the right place! We know many people are searching for cheap water slide rentals Mobile AL can depend on to be high-quality and reliable, which is where our affordable and exciting inventory comes into play.
Q.
What age groups can use the water slides?
A.
Our slides are made from industry-grade materials and are perfectly safe for ages four and up with adult supervision. If you're on the hunt for children-friendly water slide party rentals Mobile AL parents can depend on, we have dozens of options that provide entertainment and excitement for the entire guest list.
Q.
Are there overnight rentals?
A.
Yes, there are. You can rent any of our Mobile Alabama water slide rentals for an extended period of time! Take advantage of our weekend specials and book your slide for the full weekend at the price of a single-day rental!